Mike and Irene Get Engaged!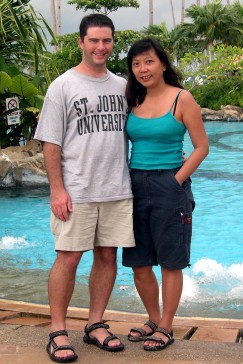 SINGAPORE - 23 August 2003 - Mike and Irene got engaged on a weekend trip to Bintan Indonesia. We went there to get away from the hustle and bustle of Singapore and enjoy a relaxing weekend. The night before, we had stopped in a jewelery place to have a look but I think I really surprised her. I'd had a good night out the night before so I had a tough time getting up at 6:30 in the morning for our 10am ferry. Irene was so helpful in getting everything ready while I rested. Finally, we made it out the door to catch a bus. My stomache didn't like the bus ride so we got out two stops later and took a taxi. He had to take a bathroom break while we waited in the cab for him. Mostly, I was resting. After Irene got a tea and soft boiled egg, I was feeling pretty good. By the time we got on the ferry, I was quite perky. We sat there towards the back of the boat holding hands and chatting.

About 25 minutes into the journey, I asked Irene to come with me to the concession stand that had cakes and drinks and such. She came with me and after pretending to look at the selections, I said got the attention of the cabin. Irene then grabbed me, tried to turn me around physically and said, "No! Don't! Be quiet!" But I continued, "This is my girlfriend and I love her very much." It was quite corny but more eloquent words didn't come to mind. I also didn't want to go into too great of detail. Then I dropped on a knee and said, "Will you marry me?" Luckily, she said "Yes" even though she'd warned me that she'd reject me the first time. It was funny because we'd talked about being surprised with a proposal. We got a round of applause form everyone in our cabin as we kissed.

She was so surprised. We sat back in our seat looking at each other so lovingly. When the ferry pulled into the pier, one guy came up to congratulate us.

FLASHBACK: I had wanted to propose soon after I got my job or things were a bit more settled. However, my job took so long to go through. I even thought about doing it over Christmas in the US but I thought I'd wait for a bit of stability. It wasn't so good when Irene lost her job and had to quit another.

We were just getting to the queue (line) for customs whena guard-type guy pointed us to a counter with no one waiting. We hesitated as it was the counter for Indonesians but we went anyway. That probabaly saved us 10-15 minutes and gave us a chance to look around the ferry terminal. We got on the bus to our hotel and sat right at the front. Irene had teased me that she would say no so we were talking about that and she sort of said maybe no jokingly. Then I looked over everyone on the bus and said, "Do I need to do it again?" She quickly shut me up and said yes.

We quickly checked into our hotel with our fruitty drink and relaxed a bit. We stayed at Nirwana Gardens that was running an internet special for $S135 plus 20% tax per night. The room was quite nice. It was clean and had wooden blinds, a couch, cable tv and a bath tub. We stayed in there, had the sandwiches we'd packed, took a bit of a nap and just relaxed for a little over an hour. Next we went to check out the beach, which was pretty nice, and moved on to other resorts. I had wanted to do a bit of diving so we went to a resort that offered that and signed up for a dive the next day. I mostly just wanted to brush up on things again. We kept walking to another resort that was on the other end of the beach and further to a Thai restaurant as well as a seafood one. They have nets for storing farmed fish right underneath the platform that sits over the water. This results in some fresh fish.

We made our way back to the resort where we went for a swim in the sea and then a swim in the pool. We even had someone approach us in the pool to congratulate us. Another person from the ferry. It was a nice relaxing time that afternoon. Later, we sat poolside and played a game of Scrabble with our travel Scabble board. After more pool time and a look around, it started to rain so we went back to our room to rest some more. Before supper, we had a drink overlooking the beach and played more Scrabble. Once dinnertime arrived, we headed downstairs for the resort buffet, which was really good. As usual, we ate more than we should have. We took a short walk along the beach at night. It was nice and quiet and dark; things you don't get in Singapore very easily.

At bedtime, we found we had an extra guest in the room: a little lizard. We couldn't see him but we heard his little chirps coming from the window. There was nothing scarey or dangerous about him but if he made noise all night, it was be really annoying. We called the operator and a cheerful 20 year old Indonesian tried to catch the lizard or at least chase it out. After about a half hour of sliding the blinds around, we finally gave up. Just after he left, we heard it again and we quickly called down the hall for him. He tried again for ten minutes but again to no avail. By now, it was about 11pm and we were tired from all the swimming and chasing lizzies around the blinds.

The next morning we went down for our buffet breakfast after having slept in. Then I wondered over to the resort next door for my diving but it was cancelled because the dive master was sick. We took the chance to do some snorkeling in the area instead. We put our stuff on a deck chair and went for a swim. Between us, we had a snorkel, a mask, goggles and fins. I took the fins and goggles and Irene had the snorkel and mask. We were out there trying to find something. There wasn't too much of anything out there, which led Irene to give up. I took her gear and went out to have a look at another area. There wasn't much there either but more than before. In addition, it was a good excuse to play around in the water. Once I got back to our chair, we had a bit of a problem: I dropped the room key under the deck. They have a little deck along the beach that has maybe 6 chairs. Under this is just sand almost up to the floor boards. I knew the key was inside my shirt pocket but I didn't think I was holding it upside down, but alas, it fell, hit the deck and fell through a crack. It was no easy task to get that key back. I crawled under and started pulling sand out trying to find the key. Irene enlisted some help from resort workers but I was bound and determined to get it out. They brought a stick out and used that to poke around for it. Finally, after moving a whole bunch of sand and sending a fair bit down my trunks, I found the key. I took a swim to get the sand out while Irene laughed at me for being so stupid. I can't say I disagree with her but it was pretty funny. I must have looked like a beached whale underneath that deck with just my legs sticking out. After a rinse with fresh water, we went over for lunch where I had a nice burger while playing more Scrabble. We then wandered back to our hotel when we saw monster lightning in the distance. It took a while for it to actually rain and we sat around the lobby continuing our game of Scrabble. Eventually, the time to go home came around. We took the bus back to the ferry terminal and got on the ferry for Singapore. The ride back was not too eventful. We'd had a great weekend and felt such great love for each other. It was such a romantic weekend even if it didn't seem that way at the beginning. It'll be a weekend we remember forever.