Weekend Trip to Kulua Lumpur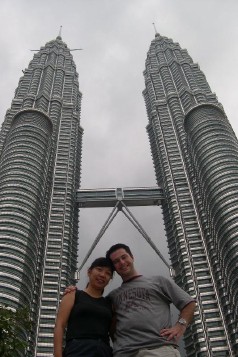 KULUA LUMPUR - 16 November 2003 - Irene and I decided to take a weekend trip to Kulua Lumpur. Okay, Mike wanted to go to see the Petronas Towers and see what KL, as it's called, is like. Irene had no interest in going other than seeing a friend of hers. She said that all there was to do was shop and nightlife. A few weeks back, we went to get bus tickets but the bus we wanted to take was full so we had take the first class bus that's suppose to be as good as flying. We arrived on Friday evening for the bus and they offered us tea and brownies at the hotel cafe before we got on the bus. It was nice and roomy but nothing super fancy like we were expecting. They served a boxed supper that had a good little chicken drumstick but rice that wasn't too great. The movie they showed, Little Heroes, was absolutely dreadful. We could only handle about 2 minutes of it. Thankfully, we had a movie to watch on the laptop so we watched that. Shortly, after our meal, the bus broke down and I saw some mechanics checking something at the side of the road. After the repair, they drove through without any stops so it didn't affect our arrival. On the way into town, I got my first look at the Petronas Towers. It was pretty impressive as it's lighted up. It was hard to get a sense of scale though from the way we were looking at it in the distance. Soon we arrived at central station, which was my first introduction to Islamic architecture. The building is quite old and we didn't even go inside but it and the one across the street were pretty interesting. Irene's friend, Siew Lyn, picked us up at the bus station. She was one of Irene's best friends and had travelled around quite a bit together. Surprising for the both of them, they hadn't seen each other in something like three years. Siew Lyn would be our tour guide for the weekend. Even though it was around 11pm, I was hungry and she took us to a hawker stall for roti canai. Mmm good. In Singapore, it's called roti prata. Canai is like a flour tortilla cooked on a hot plate but much fluffier and more "breadlike". It's about a quarter inch thick while I'd guess a tortilla is at least half that thickness. Anyway, it's an Indian bread that is eaten with curry. It's good for a snack. We sat in this kind of dark alley eating the hawker food while I sat in a dress shirt and slacks. These are the types of places that you get the best food but it doesn't always seem the cleanest. After that, we went back to Siew Lyn's house, which is a bit out of the city and chatted before going to bed.

The next morning we got up around 8am, got showered, dressed, and out of the house by about 9:30. The weather was pretty nice and we drove into town and headed for the Chinatown area. We had breakfast at this dirty little food court. The beef noodle that I had was delicious and everyone else seemed to like their food too. You wouldn't expect such good food to come from such a plain dinghy place. From there, we walked over to the historic area where two rivers come together. There's a mosque there as well. On the opposite bank of the river is the Sultan Abdul Samad Building. It was the house the sultan used to live in. Apparently, it looks more like it belongs in India. When the British ruled, they built it as well as the club across the street that was meant to recreate British life for those posted there. It included a huge green that was used for cricket. Now it's not really used much but it's got nice grass and a big jumbo screen at one end. The highlight of the green has to be the flagpole. All along the edge, a row of Malaysian flags flap in the wind but they are dwarfed by the world's tallest flagpole. Apparently, it's made it into the Guinness Book of World Records but I just looked and it didn't make it. (See GWR site.) It's tall but apparently not tall enough for the record. We made our way back near where we had breakfast.

We made our way through Chinatown with all the pirated DVD sellers and fake branded goods of all description. It was funny because I would get bombarded with the "DVD for you sir" while the two local women weren't asked at all even though Irene is sometimes interested in such things. We walked through this section and soaked up the atmosphere. At the other end, we continued on and found this nice little tea shop. They had tea sets and they gave us samples that were so good. We moved around the block to have a look, but came back to pick out a set for my sister. We sat at the counter while the sales woman made us more tea and showed us all the little things you're suppose to do when you make it. The service there was so good and we had a great time just setting there talking with her and drinking tea out of the little tea cups while we decided which set was the best. After finally making our decision and picking up some other items, we wondered over to Central Market and looked through all these little shops that sell souvenirs and other tacky sorts of gifts.

Before exploring the place too closely, we went to this Malay restaurant for lunch. It was a nice sit down type of place that was decorated quite nicely but wasn't too busy. We had green curry, beef rendang and baby fern vegetables. It was all so tasty. We got our energy back and did a bunch of browsing. After a while, it all started to look the same; many people seemed to be selling the same stuff. After we'd seen just about everything, we went back to the car only to find that a market had over taken the parking lot and we were boxed in. Siew Lyn was understandably upset with the parking attendant who had us park there and was still there. We had a look at it and it looked like it would be a pain to get out. Siew Lyn jumped in the car and started to slowly make her way out. There weren't any customers yet, just people setting up their stalls and starting to cook food. This took place during Ramadan so the Muslims have to wait for sundown to eat. The stallkeepers reluctantly moved their tables out of the way when needed and we were able to get the car out. We had no idea that they were going to set up a market when we got there relatively early in the morning. We could have parked in another part of the lot. Anyway, we finally left for the city central and the Petronas Towers.

I was so excited to be getting a good look at the twin towers as they're called there. As we drove up I was looking up at the towers from which ever window in the back seat gave me the best view. We parked underground and I quickly made my way up the escalators and outside. It was so tall. It's hard to get that perspective about just how tall it is. There was a bit of drizzle but it was still quite amazing. We took some pictures and then made our way to the other side. It looks about the same but there's a park on that side. There is no reason to go up to the observation deck cause it's only at the 42nd floor. We had a quick look around the shopping mall that occupies the space between the two towers but found it to be a bit too upmarket for us. We headed for another part of town that was more in our price range. We spent the rest of the afternoon wandering around there shopping. Later in the evening, we went back to the towers for some night photos. It is lit up so nice at night and we got some pretty good photos even though it was a bit wet. Inside, we went to see a late showing of Matrix Revolutions, which was okay. We then went home tired.

The next day, we slept in a bit. We then had breakfast at the food court of the Mid Valley Megamall that is near Siew Lyn's house. The food there was pretty good. We then looked for running shirts for me and some other clothes. We did pretty good finding lots of good bargains on stuff we needed. From there, we went over to KL Tower. This affords a great view of the city and is just across from the Petronas Towers. They have a nice audio tour that explains the things to see. We got some good photos of the Twin Towers and ourselves as well as admiring the view. From there, we went for supper and hustled over to the bus station. There was lots of traffic and the jay walkers didn't help the situation. We got there a couple minutes before our bus left; we were a bit nervous whether we were going to make it. In the end, it all worked out great. We took the bus back to Singapore and had a nice uneventful trip back home. It was a great weekend and we were quite impressed with what Kuala Lumpur had to offer the tourist.